Sometimes you might face issues while trying to open App's Settings (Merchant Console) in Shopify Admin. A generic message is displayed "The App could not be loaded", as shown below.

This happens when 3rd party cookies are blocked in your browser. To fix this, you can do either of the following:
Allow all 3rd party cookies, or
Add an exception for our App.
Allow all Cookies
On your computer, open Chrome.
At the top right, click   Settings.
Under "Privacy and security," click Cookies and other site data. 
Select the option "Allow all cookies" and try opening the app.
Add an exception for our app
On your computer, open Chrome.
At the top right, click   Settings.
Under "Privacy and security," click Cookies and other site data. 
Next to "Sites that can always use cookies,"click Add. 
In the input field, enter [*.]webmarked.net (See screenshot below)
Click Add and try opening the app.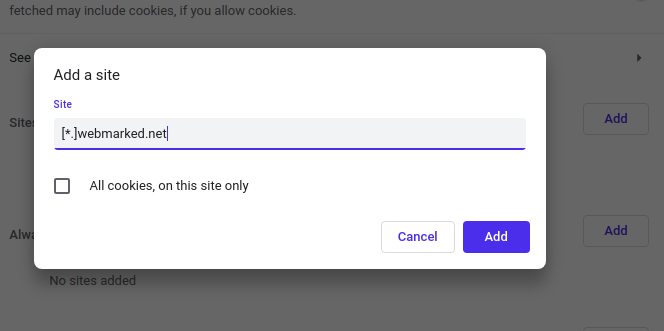 Contact us