Smart RSS Feed allows you to automatically publish product and blog images from your store as Pins on Pinterest. This is an excellent way to drive additional traffic and sales to your Shopify store.
In order to do this, please follow below steps:
Log into Pinterest and click in the top-right corner and select Edit settings
Select Bulk create Pins from the menu on the left
Under "Auto-publish", click Connect RSS Feed
Log into Shopify Admin and navigate to Merchant Console of Smart RSS Feed. Open the Feed URL Generator tool and set the target to Pinterest Board. Click Generate and copy the displayed feed URL. It's structure would be similar to the URL below:
https://www.yourstore.com/a/feed?type=collection&key=example&target=pinterestboard
In Pinterest Settings, paste the RSS feed URL into the field marked as "RSS feed URL"
Choose the board you want to publish to or create a new board
Click Save and wait up to 24 hours to see your first Pins created in the board.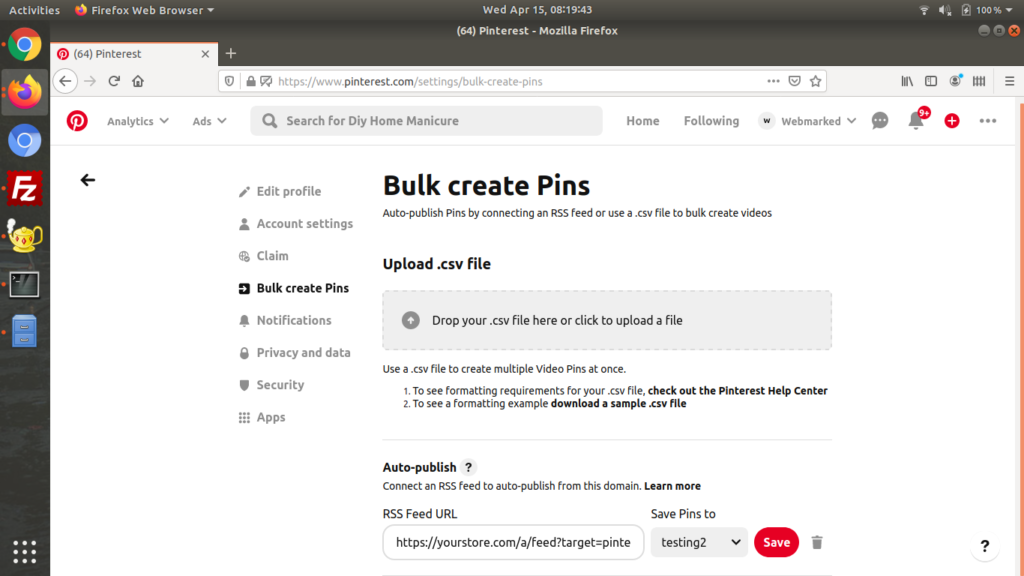 Tips:
Make sure that your Pinterest Board is not secret. A secret board is viewable only by you and thus other users can't view it.
Always use Feed URL Generator tool to find the RSS Feed URL. You can find it under App's Settings in Shopify Admin.
Use Business Profile instead of Personal Profile. Both profiles can co-exist under same Pinterest Account.
Common Issues: