By default, the Wishlist page generated by Smart Wishlist is accessed at the relative path /a/wishlist. For e.g. if your store domain is example.com, the the Wishlist page can be accessed at example.com/a/wishlist
In this article, we shall explain how to change this relative path to /apps/mywishlist. It  has to be changed at 2 different locations.
Steps
1. Login to Shopify Admin and visit Apps > Apps and Sales Channel Settings. Another page with list of apps will open.  Click on Smart Wishlist in this new list of apps.
2. Under the section App Proxy, click on Customize URL button. A popup shall appear.
3. Change the URL to desired value and click Save
The first part of subpath can have only four values 'a', 'apps', 'tools' and 'community'. Select whatever you want to use. For our example, we will choose 'apps'. The second part can be any valid string. It is up to you to give it a meaningful name. For our example we will choose 'mywishlist'.
So the new Wishlist path is /apps/mywishlist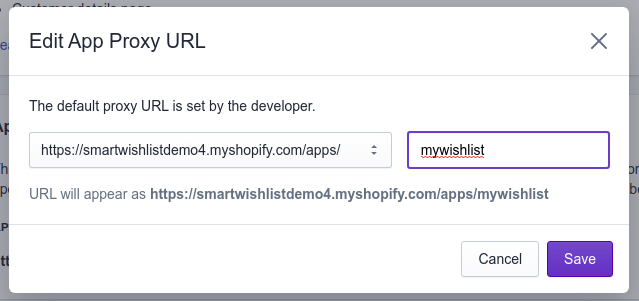 4. Once you are done, go back and open the App. You may also click Open App link on top of the page.
6. Go to Advanced Settings and then to App Proxy URL. There is a similar form as in Step 3 above. Enter the same set of values and click Submit. For our example, we shall stick to /apps/mywishlist
Finished! The Wishlist page is now accessible at example.com/apps/mywishlist